Welcome to the Website
of the
NOTTINGHAM ACTION GROUP ON HOUSES IN MULTIPLE OCCUPATION
 

THE NAG
WHO ♦ WHAT ♦ WHY ♦ HOW?
 
"We are the music-makers,
And we are the dreamers of dreams, ...
... Yet we are the movers and shakers,
Of the world forever, it seems."
[Arthur O'Shaughnessy, Poems of Arthur O'Shaughnessy]
We are residents living in neighbourhoods from across a large part of the City of Nottingham (Sherwood, The Arboretum, Hyson Green, Radford, The Park, Lenton, Dunkirk, The Meadows, Wollaton Park, Wollaton, Lenton Abbey), and also in Beeston and West Bridgford.
Although our neighbourhoods are as different from one another as we are, what they have in common are the problems caused by increasing concentrations of so-called 'Houses in Multiple Occupation' (HMOs) - shared houses with absentee landlords and short-term, highly transient tenants.
What we have in common is the feeling that as individual residents we run the risk of having little or no say in what primarily local and national government, our higher education establishments, developers, investors, and others are planning and doing, even though their decisions directly affect us and the future of the neighbourhoods in which we live. As individuals we feel we have little or no voice. However, we believe that coming together as a group gives us a voice.
In February 2004, we did get together and formed the Nottingham Action Group on HMOs – the NAG – not a nice name, but appropriate. What has been happening to our neighbourhoods is not nice for those who live in them, or for their futures, and we are ready to nag and keep on nagging to get things done.
Whilst we cannot change what has happened, perhaps we too can become not just the 'dreamers of dreams' but also the 'movers and shakers', and, by influencing what may be going to happen, so help shape the future of our neighbourhoods.
For the NAG that future needs to be neighbourhoods that are resilient, balanced and sustainable, and where people feel happy to put down roots and contribute to the future of the City of Nottingham as a whole. In other words:
'... places where people want to live and work and learn, now and in the future. ...'

WHAT IS A HOUSE IN MULTIPLE OCCUPATION (HMO)?
 
An HMO is often also known as a 'shared house'. Put as simply as possible, an HMO is a building, or part of a building, occupied as a main residence by more than one household where a 'household' can be one person or several people provided that they are related to one another. So, for example, a home is probably an HMO if 
•three or more unrelated people live there as at least two separate households, and
•the people living there share the same amenities such as a kitchen and/or bathroom.
For more information about HMOs and about legislation relating to HMOs, we suggest you take a look at these websites:
http://www.nottinghamcity.gov.uk/HMO 
Also, Nottingham City Council publish a regularly up-dated Register of Licensed HMOs, which can be downloaded from the 'Downloads' section at:
http://www.nottinghamcity.gov.uk/environmental-health-and-safer-housing/private-sector-housing/houses-in-multiple-occupation-hmos/licensing-of-houses-in-multiple-occupation/

REPORT A ROGUE LANDLORD



If you want advice or help relating to the condition and management of your privately rented property
Visit:
www.nottinghamcity.gov.uk/article/29046/Report-a-rogue-landlord-or-problem-with-your-private-rented-property
E-Mail: environmental.health@nottinghamcity.gov.uk
Telephone: 0115 915-2020 (Option 4)
Write to: Environmental Health, Community Protection, Nottingham City Council, Loxley House,
Station Street, Nottingham NG2 3NG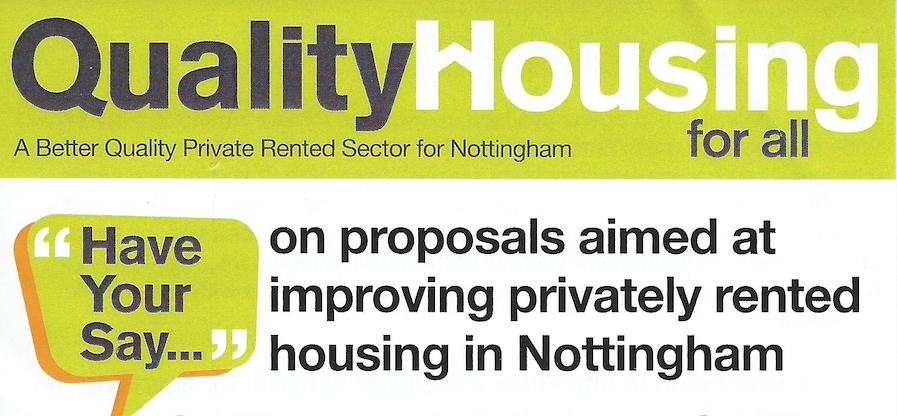 For information about the consultation on proposals for selective licensing of the private rented sector in Nottingham and to make your comments on them visit:
Consultation on Proposed New Licensing Scheme to Improve Private Rented Sector Housing 

FOR YOUR DIARY
 
NAG MEETINGS & EVENTS
Wednesday 22 March 2017, 6.30 pm to 8.30 pm in the Function Room at the Rose & Crown, Derby Road, Lenton. The latest in a continuing series of meetings with Unipol with insight into trends in the student housing market, etc.The meeting will also form part of Nottingham City Council's current consultation on proposals for selective licensing, which runs until 31 March 2017. Housing Strategy officers will be there to present information, answer questions, and give guidance. Also, representatives from Nottingham's Community Protection will be there to introduce discussions on and take questions about proposals for an Alcohol Saturation Zone in areas of Radford & Park and Dunkirk & Lenton wards, as well as in respect of developments relating to a 'Community Trigger' dealing with off-campus university student related anti-social behaviour.
Wednesday 24 May 2017, 6.30 pm to 8.30 pm in the Function Room at the Rose & Crown, Derby Road, Lenton. A meeting with Nottingham City Council's planners. Details of the agenda to follow.
NOTTINGHAM: MEETINGS, EXHIBITIONS, CONSULTATIONS & EVENTS
The Regulation 7 Direction which allows the Council to control letting boards in selected areas of the city has been in operation since 2012. It will expire in October 2017. Nottingham City Council aims to submit an application to the Secretary of State for renewal for a further five years in July 2017, and is inviting views on the proposal to renew the Direction. Comments need to be submitted by Monday 20 March 2017.
Dunkirk Community Centre, Thursday 2 March 2017, 1.00 pm to 3 pm: 'have a go' activities, 3.30 pm to 5.30 pm: food and entertainment - come and have tea with your neighbours, sample foods from around the world and join the local community.
A new, 'Selective Licensing' scheme for landlords has been proposed by Nottingham City Council. Consultation on the scheme has begun and will run until 31 March 2017. Local people, tenants, landlords, letting agents and other interested individuals and organisations are encouraged to comment on the proposal.
NEIGHBOURHOOD: PARLIAMENTARY CONSTITUENCY ADVICE,
WARD MEETINGS, WARD WALKS & WARD EVENTS
Nottingham East Constituency: Contact information for Chris Leslie MP.
Nottingham South Constituency: Contact and constituency advice surgery information for Lilian Greenwood MP.
Dunkirk & Lenton Ward (D&L): Ward Walk, Wednesday 1 March 2017, 9.45 am to 11.00 am, Lenton new build and Drives, meet outside the Lenton Centre. Community Meeting, Wednesday 4 April 2017, 5.30 pm, Lenton Centre. Ward Walk, Wednesday 5 April 2017, 9.45 am to 11.00 am, Dunkirk & Abbey Bridge, meet outside the Dunkirk Community Centre. Ward Walk, Wednesday 3 May 2017, 9.45 am to 11.00 am, Lenton Boulevard and surrounding area, meet at the Lenton Centre.
Wollaton East & Lenton Abbey Ward (WELA): Ward Walk, Thursday 23 March 2017, 10.00 am to 11.00 am, north half of Middleton Boulevard, Wollaton Park Estate, meet outside the Co-op on Crown Island. Ward Walk, Thursday 27 April 2017, 10.00 am to 11.00 am, Tenants Hall Close, Baslow Drive, Southern end of Woodside Road (85) Lenton Abbey. meet at Tenants Hall Close.

NEWS DESK
 
NATIONAL NEWS
A BBC investigation (13 February 2017) has revealed that fourteen letting agents were prosecuted in the UK in 2016 for helping themselves to more than £1m from tenants' deposits schemes.
Mark Kinver, BBC News, Science & Environment, 21 January 2017 reports a project which aims to plant three million trees - one for every man, woman and child - in Greater Manchester over the next 25 years.
The Department for Communities & Local Government has announced a public consultation on plans for new banning orders to crack down on rogue landlords and property agents. The closing date for comments is Friday 10 February 2017
On Friday 23 December 2016, BBC News on-line reported Government's announcement that it was setting up a new annual £60 million fund to counteract the all-time high in second-home ownership which is crowding out first-time buyers and artificially raising house prices.
A Nottingham City Council press release reports that the Council is missing out on millions of pounds in Council Tax due to the Government not compensating enough for the high numbers of students in the city.
Nottingham Student Lettings Limited and its sole director, Robert Singh, were fined and given a suspended sentence at Nottingham Crown Court on Thursday 19 January after admitting breaching fire safety regulations relating to accommodation in Castle Gate.
The Chair of the Code Tribunal has suspended Shields Student Homes from membership of the Unipol Code pending a full Tribunal hearing which will take place soon. They are no longer an accredited supplier.
Consultation has begun on a new licensing scheme for landlords aimed at improving standards in the private rented housing sector. The consultation runs until 31 March 2017 and the Council is keen that as many people as possible have their say.
Nottingham City Homes and Nottingham City Council's independent living scheme built on the former Lenton high-rise flats' site, has been awarded the 'Best Social or Affordable New Housing Development' at the annual LABC Building Excellence Awards.
Nottingham City Council has refused an application to build 43 one-bedroom student flats on the former Red Cross site.
Laura Alvarez, Lecturer in Architectural Technology at Nottingham Trent University, writing in 'The Conversation' comes up with seven simple rules to help make good neighbourhoods.

ACKNOWLEDGEMENTS & DISCLAIMER
 
The Nottingham Action Group on HMOs wishes to thank: Nottingham City Council for funding support; everyone whose contributions (photographs, ideas, articles, work) form part of this website; and Magneto Technologies Ltd (http://magnetoweb.com) for the expertise which has enabled us to set up and maintain this website.
Last, but by no means least, we also thank our neighbours in the National HMO Lobby for their continuing help and support.
---
The views and opinions expressed in contributions to this website do not necessarily reflect those of the Nottingham Action Group on HMOs, its committee, or its wider membership.
---
Whilst endeavouring to ensure that reports are accurate, from time to time mistakes may occur. If you feel this is the case, please contact the Nottingham Action Group on HMOs. Information on how to do so is available on the 'Contact Us' page of this website.