Welcome to the Website
of the
NOTTINGHAM ACTION GROUP ON HOUSES IN MULTIPLE OCCUPATION
 

THE NAG
WHO ♦ WHAT ♦ WHY ♦ HOW?
 
"We are the music-makers,
And we are the dreamers of dreams, ...
... Yet we are the movers and shakers,
Of the world forever, it seems."
[Arthur O'Shaughnessy, Poems of Arthur O'Shaughnessy]
We are residents living in neighbourhoods from across a large part of the City of Nottingham (Sherwood, The Arboretum, Hyson Green, Radford, The Park, Lenton, Dunkirk, The Meadows, Wollaton Park, Wollaton, Lenton Abbey), and also in Beeston and West Bridgford.
Although our neighbourhoods are as different from one another as we are, what they have in common are the problems caused by increasing concentrations of so-called 'Houses in Multiple Occupation' (HMOs) - shared houses with absentee landlords and short-term, highly transient tenants.
What we have in common is the feeling that as individual residents we run the risk of having little or no say in what primarily local and national government, our higher education establishments, developers, investors, and others are planning and doing, even though their decisions directly affect us and the future of the neighbourhoods in which we live. As individuals we feel we have little or no voice. However, we believe that coming together as a group gives us a voice.
In February 2004, we did get together and formed the Nottingham Action Group on HMOs – the NAG – not a nice name, but appropriate. What has been happening to our neighbourhoods is not nice for those who live in them, or for their futures, and we are ready to nag and keep on nagging to get things done.
Whilst we cannot change what has happened, perhaps we too can become not just the 'dreamers of dreams' but also the 'movers and shakers', and, by influencing what may be going to happen, so help shape the future of our neighbourhoods.
For the NAG that future needs to be neighbourhoods that are resilient, balanced and sustainable, and where people feel happy to put down roots and contribute to the future of the City of Nottingham as a whole. In other words:
'... places where people want to live and work and learn, now and in the future. ...'

WHAT IS A HOUSE IN MULTIPLE OCCUPATION (HMO)?
 
An HMO is often also known as a 'shared house'. Put as simply as possible, an HMO is a building, or part of a building, occupied as a main residence by more than one household where a 'household' can be one person or several people provided that they are related to one another. So, for example, a home is probably an HMO if 
•three or more unrelated people live there as at least two separate households, and
•the people living there share the same amenities such as a kitchen and/or bathroom.
For more information about HMOs and about legislation relating to HMOs, we suggest you take a look at these websites:
http://www.nottinghamcity.gov.uk/HMO 
Also, Nottingham City Council publish a regularly up-dated Register of Licensed HMOs, which can be downloaded from the appropriate link in this page: http://www.nottinghamcity.gov.uk/HMO. Scroll to the 'Downloads' section and the register is the last item on the list.

COMPLAINTS ABOUT LICENSED HMOs
 
Complaints about licensed HMOs can be made directly by e-mailing:

REPORT A ROGUE LANDLORD



If you want advice or help relating to the condition and management of your privately rented property
Visit:
www.nottinghamcity.gov.uk/article/29046/Report-a-rogue-landlord-or-problem-with-your-private-rented-property
E-Mail: environmental.health@nottinghamcity.gov.uk
Telephone: 0115 915-2020 (Option 4)
Write to: Environmental Health, Community Protection, Nottingham City Council, Loxley House,
Station Street, Nottingham NG2 3NG

FOR YOUR DIARY
 
NAG MEETINGS & EVENTS
Notes of this meeting, held on Thursday 21 February 2019, are now available to read and to download when you open this page.
Notes of this meeting, held on Friday, 26 January 2018, are available to read and to download when you open this page.
NATIONAL, NOTTINGHAM & NEIGHBOURHOOD: MEETINGS, EXHIBITIONS, CONSULTATIONS & EVENTS
Eat with friends with activities for children, Sheila Roper Centre, Lenton Abbey, 3.00 pm to 5.00 pm
Guided tour around the grounds of some of University Park's historic houses. 2.00 pm. £4.00 per person. Booking required.
Industrial to modern walk through the development of Jubilee Campus, 6.00 pm to 7.30 pm. Fee 3.00 per person. Booking required.
Live music from the Newstead Bras Band in the Millennium Garden, University Park, Please bring a picnic. Free event. No Booking required.
NEIGHBOURHOOD: PARLIAMENTARY CONSTITUENCY ADVICE,
WARD MEETINGS, WARD WALKS & WARD EVENTS
Nottingham East Constituency: Contact information for Chris Leslie MP.
Nottingham South Constituency: Contact and constituency advice surgery information for Lilian Greenwood MP.
Lenton & Wollaton East Ward: Contact details for ward councillors, location and times of ward surgeries, ward walks,  ward monthly newsletter, neighbourhood events ... Saturday 22 June, 3.00 pm to 5.00 pm, Great Get Together, Sheila Roper Centre, eat with friends with activities for children.



NEWS DESK
 


NATIONAL NEWS
Kevin Peachey (Personal Finance Reporter, BBC News) on Wednesday 13 March 2019 reported on concerns raised by students in a recent survey by 'Save the Student': Included in the list of ten biggest concerns are the state of accommodation and noisy housemates.
On Monday 18 February 2019 Sean Coughlan, BBC News Education & Family Correspondent reported on the growing expectation that university fees will be cut and on the possibility that some universities may go to the wall.
Peter Beech, writing in the Guardian, Thursday 6 December 2018, reported on how people living in areas with high concentrations of students in university towns and cities from Bristol to Nottingham are asserting their right to get a good night's sleep.
Jon Pritchard, writing in the Nottingham Post on 5 March said that dealers are using business cards and other promotional material to advertise drugs to students in Nottingham. Nottingham University and Nottingham Trent University are working with the Police to crack down on the problem.
The Nottingham Post (Matt Jarram, Friday 8 March 2019) reported on a Medical Practitioner's Tribunal hearing where Dr, Balvinder Singh Mehat was judged to have brought the profession into disrepute as a result of his activities as an HMO landlord and a director of Mehat Properties Limited.
Matt Jarram, reported in the Nottingham Post (Monday 18 February 2019) that Beeston Labour and Liberal Democrat councillors are calling on Broxtowe Borough Council to cap the amount of student developments in the town.
On Friday 15 March 2019, Alex Mace and Dan Russell (Deputy Digital Editor) reported in the Nottingham Post that a student dressed as a policewoman confronted a thief in Gill Street South student accommodation, but later items from the flat were found to have been stolen.
The Nottingham Post (Joseph Locker Sunday 24 February 2019 and Phoebe Ram Monday 25 February 2019) report on the continuing and vexatious issue of student anti-social behaviour, in this instance noisy house parties in Nottingham's Arboretum neighbourhoods during the week-end resulting in CPOs handing out warnings and fixed penalty notices to a number of student households.
As part of its fact finding, the Great Places Commission's visit to the East Midlands included Lenton Green, the Nottingham City Homes redevelopment of the Lenton high rise flats site.

UNIVERSITY CORNER
 
NOTTINGHAM TRENT UNIVERSITY
Community Statistics & Response Rates
At the meeting facilitated by the NAG on 26 January 2018, Nottingham Trent University presented its community statistics and response rates for the period from September 2017 to 26 January 2018. The university will be providing up-dated community statistics and response rates for each term of the academic year. 
A summary of Nottingham Trent University's community statistics for the academic year 2017 to 2018 is now available and can be downloaded here:
NTU_Community_Statistics_2017_to_2018.pdf
Nottingham Trent's 'Moving Into the Community' information portal can be accessed here:
 http://browzer.co.uk/u/ntu/preview/77
NOTTINGHAM UNIVERSITY
Community Newsletter
Community Newsletter Spring 2019
For information about University Park and Jubilee Campus Park events, and guides to gardens, trees, etc. visit:

EDITOR'S NOTEBOOK
"... a Very Special Generation. ..."
D-Day 6 June 1944 & 6 June 2019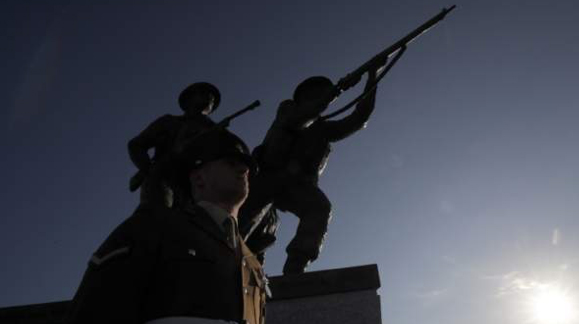 "... a very special generation. A generation whose unconquerable spirit shaped the post-war world. They didn't boast. They didn't fuss. They served. ... And they laid down their lives so that we might have a better life and build a better world.
If one day can be said to have determined the fate of generations to come in France, in Britain, in Europe and the world, that day was June 6, 1944. ..."

ACKNOWLEDGEMENTS & DISCLAIMER
 
The Nottingham Action Group on HMOs wishes to thank: Nottingham City Council for funding support; everyone whose contributions (photographs, ideas, articles, work) form part of this website; and Magneto Technologies Ltd (http://magnetoweb.com) for the expertise which has enabled us to set up and maintain this website.
Last, but by no means least, we also thank our neighbours in the National HMO Lobby for their continuing help and support.
---
The views and opinions expressed in contributions to this website do not necessarily reflect those of the Nottingham Action Group on HMOs, its committee, or its wider membership.
---
Whilst we endeavour to ensure that reports are accurate, from time to time mistakes may occur. If you feel this is the case, please contact the Nottingham Action Group on HMOs. Information on how to do so is available on the 'Contact Us' page of this website.