REGIONAL CIVIC TRUST AWARDS
 As reported in the 'Business News' section of the Nottingham Post on Tuesday, 11 March 2011, the refurbishment by Hopkins Architects of Nottingham Trent's Newton and Arkwright Buildings has won a regional Civic Trust award.
In its citation (www.civictrustawards.org.uk) the Trust said:
'Nottingham Trent University is to be congratulated on their decision to restore two disparate, under-used, malfunctioning Grade II listed buildings and unite them with the City matrix; giving a late Victorian building and a mid-20th Century one new meaning, visibility and usefulness.
The two buildings have been integrated into one new, accessible complex with generous circulation and social activity space that is informal and flexible.
Detailing throughout is immaculate, yet simple and the wonderful new courtyard provides an outside semi-private space; a functional link between existing buildings.
RETURN OF THE FALCONS
The Nottingham Post reported on Tuesday, 14 February 2012 that the webcam monitoring the Nottingham Trent peregrine falcons has gone live to mark the start of this year's National Nestbox Week. In 2011 The peregrines were viewed more than 250,000 times. A new high-definition camera has now been installed so that viewers will get better quality pictures over the internet than they did last year. To view the blog and cameras for this year, log on to www.ntu.ac.uk/falcons.
 EDITOR'S NOTE
I rarely wax poetic about architecture, which is not to say that I'm completely devoid of interest in the subject: far from it. It's just that, on average, when it comes to buildings I'm pretty much a philistine. However, I do know what I like, and, as you may have gathered, I very much like Nottingham Trent's restoration of the Arkwright and Newton Buildings.
The pity is that it's only when you visit the Arkwright and Newton Buildings that you get a good idea of how well the job has been done: the photographs dotted throughout this section don't do justice to it. So no surprise, if I understand correctly, that the Civic Trust award has been only one among many.
Mark Simmonds is Nottingham Trent's first Student Community Manager. The extracts from his job description will give you a good idea of what he's charged with doing. My thanks to him for coming up with the reports and associated illustrations on Nottingham Trent's development at its Clifton campus and its plans for the redevelopment of the Byron House site in the city centre. From this it does seem as if Trent is serious about providing homes for its students as well as its peregrine falcons.
By the way, they successfully fledged/graduated during the summer.
As Grant Anderson, Nottingham Trent's Environmental Manager, said in the Nottingham Post: 'We are delighted that the falcons keep returning each year. ...'
At least as far as I am concerned, writing something about oneself is not a task that I ever want to do. So my very special thanks to Mark for agreeing to write his introduction to himself.
When we first met, he was very new to his post, but definitely learning to sail his ship – welcome Mark!
Mark's contact details are:
Telephone: Nottingham 848-4290; E-Mail: mark.simmonds1@ntu.ac.uk
Rhodes


UNIPOL:
Celebrating Three Years in Nottingham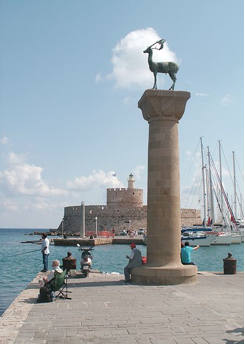 Mandraki Harbour, Rhodes Town: photograph courtesy of & ©Oren Rozen
'Houses mean a creation, something new,
a shelter freed from the idea of a cave.'
[Stephen Gardiner]
Note: When the accumulation of detritus reaches the point where it threatens to overwhelm every corner of my 'office', I begin to wonder whether its time for a clear out, especially of paperwork I haven't had reason to look at for quite some time.
Not that I'm about to consign back-issues of the NAG magazine to the recycling bin – at least not yet! But the fact is that, once published, their contents tend to be relegated to an 'archive' file in my memory, largely forgotten until something reminds me to take another look.
On the 11 January 2011, a meeting at the Council House in Nottingham celebrated three years of Unipol in Nottingham. Which is why it was serendipitous that, while hunting for something else, I found myself reading an article by Scott Blakeway (then the Welfare and Equal Opportunities Officer at Nottingham Trent's Students' Union) in the Winter 2006-Spring 2007 issue of the magazine (p.14) entitled: Why Nottingham Trent Students' Union and the Nottingham Action Group want Unipol Nottingham to become a reality'.
Looking back, some of what was written in 2007 now sounds rather naïve. Not everything has come about that was hoped for, and some never will. However, should there be a need to justify the NAG's decision in 2005 to invite Martin Blakey and his colleague from Unipol to Nottingham in the first place, then this report in the Nottingham Post should do just that.
It should also show that no matter how many safeguards are put in place on their behalf, ultimately students themselves are the only ones who, by reporting problems with properties and landlords and agents, can allow others to take enforcement action on their behalf.
Of course, it remains to be seen whether students heed Unipol's advice and avoid renting properties from landlords and agents who behave as these landlords have done.
---
LANDLORDS THROWN OUT FOR BREACHING NOTTINGHAM STUDENT HOUSING CODE
Two landlords have become the first to be thrown out of a student housing standards scheme in Nottingham.
Max Choudhuri and Fatima Jabbar lost their accreditation with student housing charity Unipol for breaking a code of conduct covering the city's student landlords.
The breaches were discovered after complaints from students at a property in Derby Road, Lenton.
They included not having a valid electrical safety certificate for the property, failing to deal with repairs within required time frames and issues relating to the students' deposits at the end of their tenancy.
Martin Blakey, Unipol's chief executive, said: "These landlords agreed to abide by standards laid down in the Unipol DASH Code that they did not actually meet and students should bear this in mind before they consider renting properties from them in the future."
The DASH code, which stands for Decent and Safe Homes, was set up in 2008 to help students find homes with reputable landlords.
Unipol found Mr Chouldhuri and Dr Jabbar were flouting the voluntary code of practice following complaints from tenants.
A tribunal was held last month, the results of which Unipol has just made public. It ruled they had both committed a series of breaches of the code.
The DASH code is supported by the University of Nottingham, Nottingham Trent University and New College Nottingham, and 400 landlords are members. Both universities advise students to prioritise Unipol DASH Code landlords when looking for private-sector accommodation.
Stephen Dudderidge, director of student operations and support at the University of Nottingham, said: "The university wants all its students to be able to access safe, secure, good-quality and fairly-priced accommodation.
"Raising awareness of the Unipol DASH Code among our students, and taking decisive action against landlords in breach of the code, helps maintain high standards of accommodation for our students."
Councillor David Liversidge, city council's portfolio holder for housing, said: "Both landlords agreed to abide by the regulations laid out in the code and have failed to do so."
The tribunal took into account Dr Jabbar signed the Unipol DASH code declaration form in September 2008 and was therefore the accredited landlord, but Mr Choudhuri signed the tenancy agreement and dealt with the tenants.
A legal spokesman for Mr Choudhuri said he was considering taking legal action against Unipol over the "flawed and biased" tribunal.
He said: "As a result of the tribunal, the landlord made it very clear that he did not want to be part of the Unipol.
[Bryan Henesey, Nottingham Post, Monday, 18 October 2010]
WHAT YOU NEED TO KNOW ABOUT HOUSE HUNTING
Note: There are many different ways in which Unipol tries to help students tackle successfully one of the most important (and potentially most costly in human as well as monetary terms) decisions they have to make while at university: the roof over their heads, and the people they share it with.
The Unipol Housing Tabloid is one. Another source of good information and advice is the Unipol website. With this year's formal house hunting season upon us, I hope theses extracts will give you a taste of what both have to offer to Nottingham's students.
The link to the website is: www.unipol.org.uk/nottingham.
 THE UNIPOL DASH CODE EXPLAINED
Whether you're still looking for accommodation or have already found somewhere for next year, it's well worth knowing if your future landlord supports Unipol.
In Nottingham, Unipol operates the Unipol DASH code. this is the official accreditation scheme for student housing in the city. The Code covers not only physical standards relating to a landlord's properties but also how they go about managing their property portfolio. To join the code landlords and managing agents have to sign a declaration form to say they agree to abide by these standards. Staff from Unipol then inspect a sample selection of their properties to ensure that the specified standards are being met. We also speak to tenants to find out how well the landlord/agent manages the property.
When you search for properties on the Unipol website it's easy to see which landlord's properties are accredited as they are always shown with a blue background.
The main benefit for students of accreditation is that it means if you are renting from an accredited landlord they have already voluntarily agreed to meet the standards of the Unipol DASH Code, some of which are significantly higher than their minimum legal obligations. As you might expect, wherever possible Unipol recommends that you rent from Unipol DASH Code landlords. By doing so you have greater peace of mind and in the event of any problems with your landlord or house, you can contact Unipol and we will help you to resolve the situation.
Because managing agents tend to have larger portfolios, containing different types of properties, Unipol distinguishes between two different levels of membership for agents who wish to become accredited.
Full Members – This is when an agent is able to declare that all of the properties they manage meet the standard of the Code.
Code Supporters – A managing agent can also become a Supporter of the Unipol DASH Code. However, it is important to realise that supporters are NOT FULL MEMBERS of the Code. Instead they sign up individual properties as accredited rather than their whole portfolio. In addition, they also agree to advertise their Unipol DASH Code properties separately from non-Code properties to avoid potentially confusing tenants.
So wherever you choose to live, try and find out whether your landlord or agent is registered with Unipol and if your agent is a Code Supporter, make sure that the particular property you are interested in is covered by the Code.
[Housing, Unipol Tabloid, April 2011]
THE OFFICIAL START DATE FOR HOUSE HUNTING 2012-2013
The official start date for house hunting 2012-2013 is Monday 23 January 2012. On this date Unipol Nottingham will launch its full list of student properties.  Last year there were more than 10,000 bed spaces advertised on the website making the Unipol website the most comprehensive listing service available for Nottingham students.
Why Do We Have an Official Start Date in Nottingham?
Over a number of years, due to pressure from letting agents and landlords, combined with a lack of knowledge of the overall student accommodation market in Nottingham, the time of year when students felt they should start looking for housing crept further and further forward. This reached a point where first year students had barely moved into their halls before they felt pressured into having to think abut accommodation for the next year.
Since 2007 the two Nottingham Universities,  Nottingham City Council and Unipol have come together, in the interest of students in Nottingham, to agree an official start date.  This agreed date aims to provide students with sufficient time to:
get to know the City of Nottingham and the full range of possible locations they could live in
decide who they really want to live with
concentrate on studying for their January examinations without the worry of having to house hunt at the same time.
 What Are the Dangers of Signing Before the Official Start Date?
Each year Unipol hears of students who choose to ignore the official start date and sign for a property early.  Many think they can to gain an advantage by jumping ahead of everyone else, others simply panic as a result of pressure from their peers and landlords. In truth these students are much more likely to be paying the premium prices which landlords and agents hold out for when they first market their properties. They will also be selecting their accommodation from a much smaller pool of properties than will be available after the official start date.
By waiting until the 23 January not only will you get to choose from a greater range of properties but you will able be able to see how different rent levels compare and where the best value can be found. Between now and the start of the 2012-2013 academic year your circumstances can change and friendships formed in the first semester don't always last through to the end of the first year.  Equally not all students pass their January examinations.  This can be quite distressing but if you have already signed for a property it can also have serious financial consequences. This is because contracts to rent properties, once signed, represent a financial commitment which can't simply be walked away from. For this reason take your time, don't be rushed by anyone and make sure you are absolutely certain about what you are doing before you sign anything.
Why Do Landlords & Letting Agents Advertise Their Properties Before the Official Start Date?
Not all do. The majority of Unipol DASH accredited landlords support the official start date and appreciate the reasons behind it. By waiting until the 23 January they know the students who view their properties will have considered their options fully and are more likely to be better tenants than those who rush into decisions before the start date.
However, it is also common knowledge that Nottingham has a surplus of student accommodation and, as in any competitive business, different players will employ different tactics to gain market advantage.  Many unaccredited landlords who are not accountable to the Unipol DASH code choose to advertise before students are able to see the whole market on the Unipol website.  Other landlords and agents who charge premium prices or additional fees find it easier to justify these costs before the full picture of the Nottingham Market becomes apparent after the 23rd January.
A Final Thought
Unipol understand that students will often come under great pressure from friends and landlords/agents to make early decisions on their housing. However, in a market where there are considerably more bed spaces than students, ask yourself who really gains from you committing yourself to a property early, you or the landlords/agents?
WHY DO THIRD YEAR STUDENTS GET THE BEST HOUSES?
Advice for First Year Students
There are a number of things that you can do to make sure you get the best house possible for your group.
Work out who you want to live with. Think about this carefully as you will end up living together for a whole year. If there are things that are irritating now a year can be a long time
Explore areas of Nottingham to decide where you want to live. Have a walk around different areas at different times of day and make sure you like the atmosphere and feel safe
Work out how much you can afford (don't forget gas electricity etc.). This is a common mistake that many students make. Make sure that everyone in the group decides a budget and sticks to it. TIP: the general standard of student housing in Nottingham is very good so you should easily find a property of excellent quality around the average rent
Discuss what you want in the property. Not everything will be possible but your group could draw up a list of essentials and desirables. TIP: If you are in halls your internet is normally already sorted. In the private rented sector some houses have this, some do not. Internet is relatively easy to install so don't let this put you off a property if it isn't there already
Look into the legal aspects of renting – what are your landlord's responsibilities and what are yours. Your Student Union is there to help you and will offer a free contract checking service so you can be happy that the contract you sign is fair. All tenancies that are signed for next year properties will be subject to the new Tenancy Deposit Scheme (TDS). TIP: look at how this will affect you by picking up a leaflet in the accommodation bureau or looking at the website
Take your time. Contrary to opinion there are plenty of good houses left well in to the house hunting season. There is a surplus of accommodation in Nottingham, which means that you are well positioned to get the right property for you at the right price. TIP: If you leave your house hunting to later in the season you can often negotiate more easily with landlords
Don't feel pressured. Unipol DASH Code have agreed as part of the Code to give you 24 hours to seek independent legal advice on a contract before you sign anything. TIP: Take the time to make sure you are happy with your group and the house
Don't believe the myths. Many Non-Unipol landlords would have you believe that everyone needs to pay sign up fees this is simply not true. Plenty of landlords who advertise with Unipol do not charge a sign-up fee. TIP: Some landlords and agents are charging larger than normal sign up fees and not charging deposits following the introduction of the new TDS – remember if this is the case you will get none of this money back
So although 3rd year students often have good houses this does not mean that you have to compromise. Use the tips above, understand the market, don't rush, read the information that will be coming out from your institution, Student Union and us and you too could have one of the best houses.
[Unipol Website, January 2012]
Rhodes to Pylos


NATIONAL HMO LOBBY:
A Problem Shared