COVID-19 SURGE IN NOTTINGHAM
 
BBC News on Friday 9 October 2020 published an article showing that, although 689.1 per 100,000 people in the city had tested positive to covid-19 over the past week, anticipated Government restrictions will not now be announced until Monday 12 October with implementation following on Wednesday 14 October. Local leaders consider the lack of action unacceptable, putting people at risk. A map of coronavirus cases, based on Government data, shows the focal points of the surge to be in areas around Nottingham's two universities. ...
Nottingham Covid surge: Government told to act
The government has been told to act without any more delays after it was announced Nottingham has the highest Covid-19 infection rate in the UK.
Figures show that 689.1 per 100,000 people tested positive in the city over the past week, but restrictions are not due to be announced until Monday.
Local leaders said the lack of action was unacceptable and urged people not to wait for the announcement.
The government told residents to follow "the advice of the local authority".
Nottingham's director of public health Alison Challenger said three-quarters of its 2,300 new positive cases in the past seven days were among people aged 18-22.
Rates have risen across the city but have climbed most steeply in areas with high student populations.
She said she was "certain" the area would face additional measures and they were likely to be "particularly stringent".
Leaked documents show Nottinghamshire is expected to go into level two of a new "three-tier" system next week, with rules coming into effect on Wednesday - but many have questioned the delay.
Most other parts of England with very high infection rates have already had tighter restrictions imposed on them.
Alex Norris, Labour MP for Nottingham North and shadow minister for public health, said: "We need action, and we need action today, and instead we are going to wait until next Wednesday for it.
"I'm really worried that tonight (Friday) and Saturday night, such busy nights, people are going to try and get one last 'hurrah' in.
"The government says it supports what the local authority is saying, but they haven't properly engaged with the local authority, or supported it through regulations.
"It's unacceptable for Nottingham, and for Nottingham people to be put at risk because the timetable doesn't suit the government. 
"They should be acting before the weekend...that's obvious. They've let us down - they've let the city down."
---
Analysis - Daniel Wainwright, BBC England Data Unit
Although cases are rising all over the country, the increase in a single week in Nottingham is huge.
There were 2,294 confirmed cases of coronavirus recorded in the city in the week to 5 October - about 328 a day and up from 407 for the whole of the week before.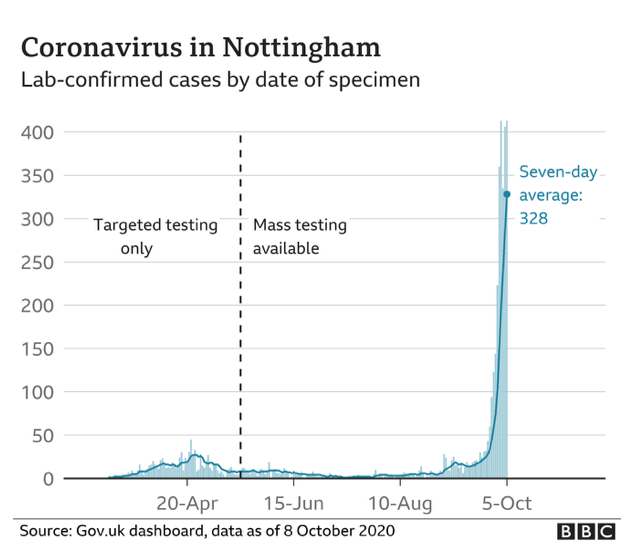 This means 689 positive tests for every 100,000 people in just one week.
The worst affected areas are those around the city's universities.
Data for the week to 4 October shows 546 cases recorded in the University Park, Lenton Abbey and Jubilee Campus area of the city and 223 in Arboretum, Forest and Trent University.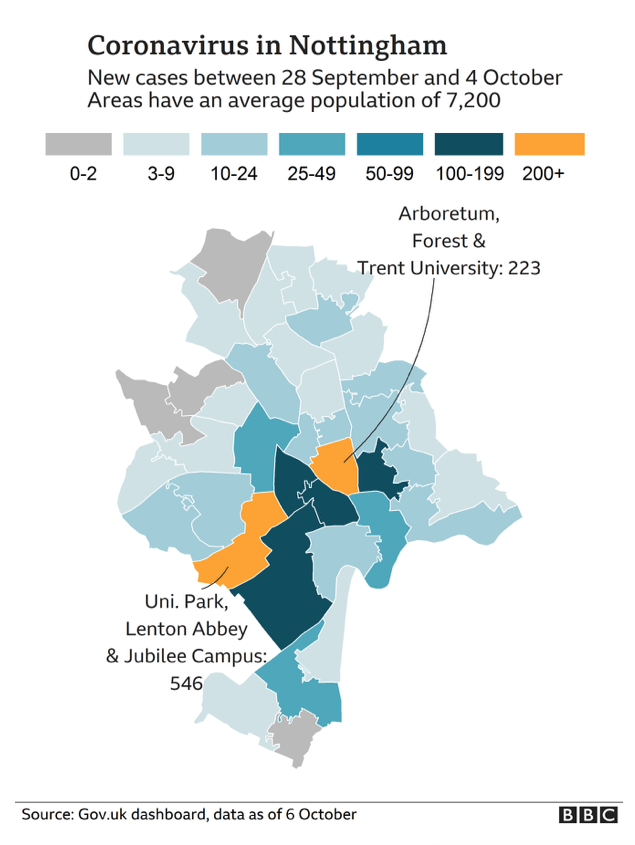 ---
Nottingham City Council leader David Mellen said it did not make sense to wait until the middle of next week for any "government-announced restrictions".
He said city, county and district council leaders had all agreed to encourage people to follow new rules now, including not mixing households indoors.
"It's not got the power a government restriction would have, so it leaves Nottingham hanging really and that's not good enough for the people that I represent," he said.
Mark Spencer, Sherwood MP and the government's chief whip, refused to be drawn on the three-tier system and whether Nottingham should go straight into level three.
He told BBC Radio Nottingham: "That hasn't been established, we'll have to see where the numbers look later in the week.
"Clearly there has to be action of some sort but it is about walking that middle line between keeping as many of us safe but also making sure we don't crash the economy and put millions of people out of work.
"You can't just make a law up, you have to go through a process which is fairly long-winded to make sure you can deliver that.
"We don't need the government to tell us what to do. We know what to do, which is to keep our distance from people, not mix in people's houses, make sure we wear our masks, keep washing our hands."
He said there would be an announcement in Parliament next week and any new measures would be subject to a vote.
Prof Jonathan Ball, a virologist at the University of Nottingham, said the city's infection rate was "a staggering number" and bringing it under control would be a complex task.
"It's not easy, this is going to have to be a compromise," he said.
"As a virologist it would be very easy for me to say 'if you just stop everybody mixing between households like you did in April and May we will see the same effect, eventually this virus will start to burn out again'.
"But of course it won't go away forever, and so we would just keep delaying and delaying, unless we got a vaccine."
Annette Clay, who has run the High Street Flower Barrow in the city centre for 42 years, said her business was already suffering.
"It's changed since Tuesday, footfall is down 60%. It frightens the older people away," she said. 
"They should have left the students at home until Christmas. I've watched them and school kids walking past here congregating in [groups of] 15 and 20."
Kathryn Embree, a third-year student at the University of Nottingham, said there was an element of scapegoating.
"I've been pleasantly surprised about how good students have been if they think they have symptoms," she said.
"I don't think it is students and young people's fault that the cases are so high.
"When I have gone into town of an evening and at the weekend it has been complete chaos and the chaos has been across the board."
Emma Yeah, 33, said: "I heard we'd been requested to stop mixing [by the councils] so that's what I did. I was supposed to have a friend round last night but I cancelled on them.
"I trust the council more than the government. I'm really scared of coronavirus. 
"I just don't understand how it's got so bad here although it's not a surprise with all the students back."...
... Conservative MPs from the north of Nottinghamshire, where cases are much lower, have voiced their own concerns.
Ashfield MP Lee Anderson said people living in his area, where the infection rate was lower at 100.8 per 100,000, should not be "penalised" because of the high rate in Nottingham city centre.
Mansfield MP Ben Bradley said he did not want additional measures imposed in the town "unless they are totally necessary". Currently the rate there stands at 67.7 per 100,000.
Meanwhile an outbreak at Lowdham Grange prison in Nottinghamshire has seen 43 staff and 172 inmates being diagnosed with Covid-19.
The Department of Health and Social Care said: "We are constantly monitoring the data across Nottinghamshire and in light of rising cases we are working hard with local leaders and public health experts to agree how best we can suppress the virus at a local level, and the local authority has our full backing and support."