NOTTINGHAM CORONAVIRUS: ROYAL MAIL INCREASES COLLECTIONS FROM POST BOX IN 'STUDENT AREA'
 
BBC News, Wednesday 7 October 2020, carried a report that the Royal Mail has had to increase its collections from a post box on Ilkeston Road, Nottingham in a 'poplar student area' after reports it was so full of Covid-19 test kits that no more would fit. ...
Coronavirus: Nottingham post box 'filled to brim' with test kits
Royal Mail has had to increase collections from a post box in a popular student area after reports it was so full of Covid test kits no more would fit.
The box is in Ilkeston Road in Nottingham, where tougher lockdown restrictions may be introduced after a "dramatic" rise in cases.
Student Amy Collins said seeing it brought home the scale of the problem.
Royal Mail said the post box had received "larger than usual volumes".
Ms Collins, a sport rehabilitation student who spotted the full post box on Monday, said: "Seeing a whole post box with nothing but test kits is quite unnerving."
"It makes you realised how many potential contaminated people there are," she added.
The city's infection rate - 440.1 per 100,000 - is the fifth highest in England. There have been 1,465 cases in the week up to 3 October, up from 237 the week before.
The government is expected to introduce new restrictions but Nottingham City Council has already urged people to avoid mixing households.
'Questions to be asked'
On Wednesday David Mellen, the council leader, told BBC Radio Nottingham he felt the government has not involved the council enough.
He added he would like the restrictions to come in, not just within the boundaries of the city but the whole of "greater Nottingham".
This would include areas such as Beeston and West Bridgford.
The Department of Health and Social Care said it works "closely" with local leaders when looking at further restrictions and "takes into account a range of factors".
Mr Mellen said a lot of the city's new cases are in people under 22 and "the question has to be asked" whether students needed to be in the city if modules are online.
On Monday, the University of Nottingham said 425 of its students had tested positive for the virus, with many of those living in private housing. 
But Mr Mellen added: "Students are here now and part of our community... and we would want them to take responsibility as I'm sure many of them are."
The students' union has written an open letter to the university and the government, describing their responses to the pandemic as "not good enough".
In it, it said students were "scared", "demonised" and "unfairly targeted for the enforcement of rules".
It added: "It has not been possible to contain the infection within the student community, and it has not been possible to consistently provide a student experience that meets the most basic of expectations."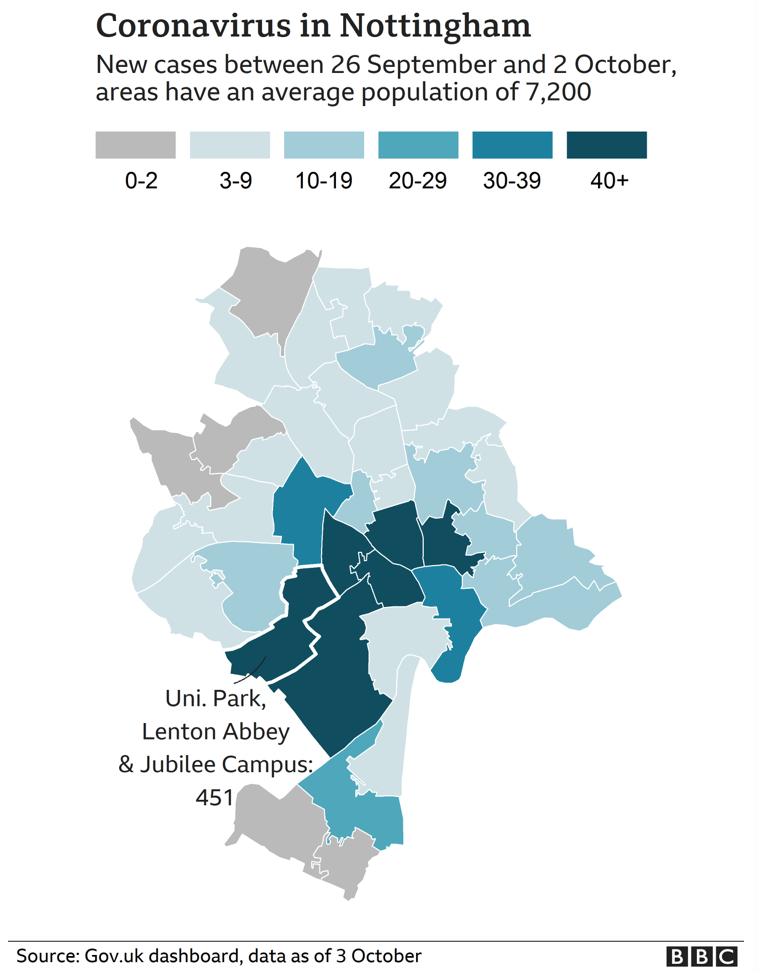 At 451, the area around the university has the highest number of confirmed cases in the city, according to government data.
The next highest area - Arboretum, Forest and Trent University - has 137 cases recorded.
But the city's public health director said the reasons behind the surge in cases were more complex than a rise in student cases.
Royal Mail said the post box, which is in an area of Nottingham where there is a high student population, "has received larger than usual volumes of completed test kits in the last 24 hours".
This followed "a recent spike in student cases," a spokeswoman added.
The company said it was introducing two extra collections at the site for a short period to cope with demand.