END OF ACADEMIC YEAR: THURSDAY EVENING, DERBY ROAD, LENTON
 
'Seriously?! End of year and still don't know you can't drink in the streets'
Under the headline 'This is the amount of alcohol taken from students drinking on the streets of Lenton in just one night', David Pittam (Nottingham Post 15 June 2018) wrote: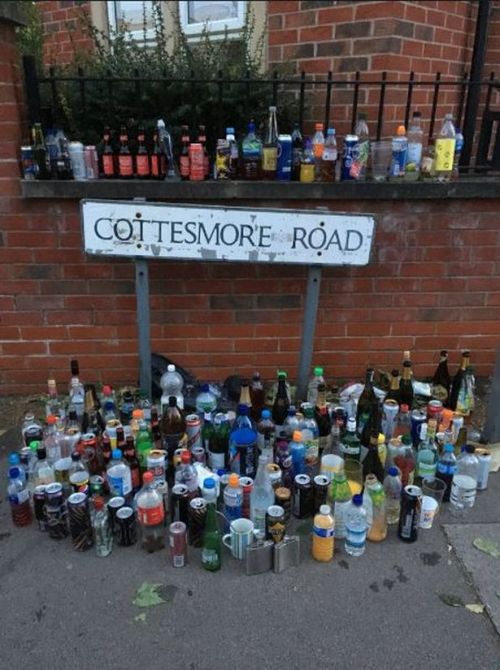 A 'shocking' picture has revealed the huge amount of alcohol confiscated from students on their way to the last big blow out of the term.
Community Protection tweeted a picture of all the bottles, cans, flasks and even mugs of alcohol they took off students in Lenton last night (Thursday, June 14).
They took it from the pick up point for the University of Nottingham grad ball held at Colwick Hall so students could "bid Nottingham adieu in unforgettable style", according to the organisers.
The drinks range from cans of Strongbow to bottles of vodka and even one Moet champaign bottle.
The CP Central West team tweeted: "Let this be a lesson learnt, don't bring alcohol out on the streets!"
Councillor Toby Neal, portfolio holder for Community Protection also tweeted: "Seriously?! End of year and still don't know you can't drink in the streets."
In May we reported that Nottingham City Council was planning on getting tougher on unruly students in the area where student parties have even been blamed for "matrimonial breakdowns".
One house party in Harlaxton Drive ended with a wall collapsing last year.
The council said the number of student complaints has since come down.
It comes after the council sent out letters threatening to kick students out of their properties for up to three months or slap them with a civil injunction to stop bad behaviour.
Mr Neal told the Post: "Since warning letters were delivered a few weeks ago, we have served 64 individuals at 13 properties with Community Protection Notice Warnings.
"This compares with almost 300 individuals being issued with these warnings at the beginning of the academic year when significant problems were experienced.
"Only one of these properties breached the warning notice, leading to seven Community Protection Notices being issued to occupants.
"The landlord of the property has been written to and the university has been made aware of the incident.
"We have had extra funding from both universities to patrol at key times and key locations which has enabled CPOs to intervene at the most appropriate times.
"We will continue with our targeted patrols until the end of the student term with extra staff on duty to combat any noise problems associated with end of year parties.
"We're pleased that early intervention with warnings seems to have had the desired effect and reduced some of the problems experienced previously by neighbouring residents."
He added that before last night, 153 alcohol containers on the street had been confiscated, around half of the confiscations for the same period last year
Editorial Note
The extra funding for Community Protection activity provided by Nottingham University and Nottingham Trent University mentioned in the Nottingham Post article is welcome, especially at a time when cut-backs are affecting so many of the day-to-day services we take for granted. However, it needs to be pointed out that the funding has only provided support for CPO activity outside the normal working day rather than additional 'boots on the ground', so straining what is already a strained resource. So, it is to be hoped that not only will both universities commit to continuing the funding on a long-term basis, but that in future the size of the funding itself will reflect the number of students they bring to Nottingham, the magnitude of the problems, and, significantly, mirror the substantial financial resources of the universities themselves.
It is a sad reflection that 14 years after the NAG was formed, and after 14 years of challenging the universities and their students' unions to step up to the plate, the real problems associated with 'studentification' continue to be experienced by residents. Isn't it about time the universities realised that, no matter how much undoubted benefit they and their students bring to Nottingham as a whole, by and large people living their day-to-day lives with student residents in their neighbourhoods experience mostly the negative impacts of the universities and their students, and that the sort of anti-social behaviour reported year in and year out invariably damages the reputation of the universities and, sadly, tars all students with the same brush.
Here is the text of a letter sent to students and signed by Professor Shearer West (Nottingham University Vice-Chancellor) and Alan Holey (President Nottingham University Students' Union), alongside the text of the warning letter referred to in the Evening Post article, signed by the Head of Uniform Services, Community Protection, and delivered by Community Protection in a resource intensive initiative to properties in: Harrington Drive, Harlaxton Drive, Allington Avenue, Welby Road, Cecil Street, Chippendale Street, Park Road, Castle Boulevard, Parts of Derby Road, Barrack Lane, Rolleston Drive, Seely Road, Douglas Road, Balfour Road, Albert Grove, Lenton Boulevard, Derby Grove, Kimbolton Avenue, Teversal Avenue, Rothesay Avenue, Bute Avenue, Cottesmore Road, Elmsthorpe Avenue, Dunlop Avenue, Johnson Road, Henry Road, Church Street, Church Grove, Arthur Avenue, Grove Road, Broadholme Street, Gloucester Avenue, Faraday Road, Devonshire Promenade, Sherwin Road, Midland Avenue, Gregory Avenue, Willoughby Avenue, Cycle Road, Kittiwake Mews, Heron Drive, Falcon Close, Sandpiper Way.
o0o
Dear students,
As you approach the end of the exam period, we wanted to thank you for your contribution to the University of Nottingham this year and wish you every success in your results.   
For many of you in your final year, these will be the last exams you sit at the University and we hope you will take many positive memories of your experiences at Nottingham with you as you branch out into the wider world. 
Whether as students or alumni of our University, we would like to remind you of the importance of your role as ambassadors for Nottingham and ask that you bear this in mind during any post-exam celebrations.  
Please celebrate responsibly and be considerate of your neighbours and the surrounding community as you do so. Any anti-social behaviour reported to the University, Students' Union or Nottingham City Council Community Protection Officers will be fully investigated. You remain subject to the terms of the Student Charter and the penalties set out in the Code of Discipline for anti-social behaviour. 
We are incredibly proud of you as students and your positive contribution to the communities in which you live, study and work. Please do not risk that reputation or damage your future prospects with a disciplinary or even criminal charge for anti-social behaviour.  
In closing, we send you our best wishes for your future endeavours, whether that is in graduation and employment, further study or simply taking a well-earned break for the summer. 
Yours faithfully, 
Professor Shearer West (Vice-Chancellor, University of Nottingham)
Alan Holey (President, University of Nottingham Students' Union)
o0o 
IMPORTANT NOTICE
To the owner/occupier
Dear Resident(s)
Re: Late night parties, noise nuisance, anti-social, rowdy and inconsiderate behaviour 
I am writing to you concerning the problems of anti-social behaviour associated with house parties held within properties in the Lenton area. 
During the final weeks of last year's term Community Protection dealt with numerous late night house parties. These parties were primarily at student households, where unacceptable levels of noise and associated anti-social behaviour had caused serious nuisance to local residents throughout the night.
Whether generated by a student or non-student household, antisocial behaviour of any type is unacceptable. Evidence from residents within the Lenton area confirms the corrosive impact that antisocial behaviour attached to large scale house parties has in terms of the quality of life of those living in the locality. There are many examples of the significant impact this is having on people's lives, including loss of sleep, impact on work and children's education being harmed. 
The City Council's Community Protection Service has a variety of powers available to tackle anti-social behaviour. Whilst we will obviously look to be proportionate in our response, it is apparent that the use of low level warnings after the event is having little impact in tackling the number of large scale parties being held or the behaviours associated with them.
Going forwards Community Protection will look to use more robust powers available to it to tackle anti-social behaviour associated with inappropriate large scale parties held within residential areas.
Applications will be made to the County Court for Civil Injunctions against individual tenants or residents found to be causing harassment, alarm or distress, or nuisance and annoyance, to those in the locality of their properties. Breach of a Civil Injunction is a contempt of court for which a custodial sentence is available. 
Furthermore, Community Protection will seek to apply to the Magistrates Court for a Closure Order in respect of any property where the use of that property has resulted in serious nuisance to members of the public.  The Magistrates Court has the power to close a property for a period of up to 3 months, preventing access to all individuals including those who habitually live at that address. Breach of a Closure Order is a criminal offence which could result in a custodial sentence. 
Anti-social behaviour within rented properties is also likely to amount to a breach of tenancy. Community Protection notify Landlords of rented property of anti-social behaviour taking place within their properties and may result in Landlords taking action to terminate that tenancy. 
If you are thinking of organising a large scale house party in a residential area I would urge you to think again.  The powers outlined above will be used to tackle any resultant anti-social behaviour and may carry serious personal consequences.
May I also take this opportunity to ask any residents who are suffering as a result of repeated noise nuisance to report the matter to the Police via 101 number or to the City Council on 0115 9152020 (during office hours).
Pete Mitchell
Head of Uniform Services, Community Protection