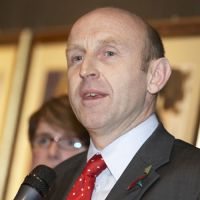 LOCAL POWERS FOR COUNCILS TO PROTECT COMMUNITIES & IMPROVE PRIVATE RENTED SECTOR
Housing and Planning Minister John Healey today announced new local powers to control the spread of high concentrations of shared rented homes and to tackle pockets of unsafe and substandard accommodation run by bad landlords.
Mr Healey confirmed new powers for local councils to manage the unplanned spread of Houses in Multiple Occupation (or an HMO) in towns and cities. The cluster of too many shared houses can sometimes cause problems, especially if too many properties in one area are let to short term residents with little stake in the local community. Tenants can also suffer from poor conditions and management of the properties by landlords.
A Government consultation on how to tackle this long-standing issue closed last year. It attracted around 900 responses, published today, from local authorities, residents associations, universities, individuals, MPs, councillors, and campaign groups. The large majority of those who responded supported a change to the so-called Use Classes Order, which defines how a property can be legally used, and the introduction of a definition of what constitutes a HMO.
Mr Healey responded to the consultation by confirming changes to the planning rules, giving local authorities the powers to manage the development of HMOs in their area, in turn helping stem the growth of large pockets of shared homes - which can change the balance and nature of communities. The Minister said that he would legislate so the new rules would come into force by April this year. The changes mean that landlords will need to apply for planning permission in order to establish a new HMO with a change of use, for example when the use of a property is altered from a family home to a shared house, with three or more tenants who are not related.
The Minister also published plans for councils, giving them extra flexibility to license landlords, requiring safe and quality rented accommodation in neighbourhoods where large numbers of substandard properties can be a magnet for community problems.
In a consultation published today, John Healey proposes to give a general consent for councils to introduce licensing schemes, without seeking permission from central Government, in hotspot areas where landlords do not maintain or manage their properties properly. A general consent would ensure that decisions on the quality of rented homes are made by those who are aware of the local issues and needs of the community. In the future, tenants will see improved standards and councils will be better able to deal with the worst landlords that drag down the neighbourhood.
Mr Healey also confirmed that detailed work is now underway for a new National Landlords Register, to help raise standards of private rented accommodation further. For the first time it will give landlords and tenants easy access to clear advice and support. It will also be the way in which landlords and tenants can be kept informed of basic rights and responsibilities.
John Healey, said:
"Today I am giving councils more local powers to crack down on the worst landlords and stop the spread of high concentrations of shared homes where it causes problems for other residents or changes the character of a neighbourhood.
"Private landlords play a big part in meeting the housing needs of millions so I want to raise the standards and stamp out the worst landlords that drag down the reputation of the rest. Councils know their communities and are best placed to help tenants facing landlords who rent unsafe or substandard accommodation and take little responsibility for the problems caused for neighbours.
"It's also right that tenants have the information they need about potential landlords, and know what to do when things go wrong. The new National Landlords Register I will set up will give them access to this important advice.
"Everyone deserves a decent and safe place to live and these measures aim to improve standards of the private rented sector at a time when more people look to rent as their first option in the housing market."
Many towns and cities across the country have suffered the effects of a concentration of HMOs. Market, coastal and university towns have reported problems due to large student populations and HMOs, meaning shops, businesses and pubs simply close down creating 'ghost neighbourhoods'.
The consultation identified the problems linked with high concentrations of HMOs and looked at ways of dealing with the difficulties.  John Healey today confirmed that new local powers will be in place by April this year. The changes will include a specific definition of an HMO and a general consent for councils to set up local landlord licensing schemes.
Notes to editors
1. The consultation, "Houses in multiple occupation and possible planning responses", closed in August 2009 and drew over 900 responses. The consulation can be found at www.communities.gov.uk
2. The responses have been published today and include the findings:
94 per cent of respondents said they'd experienced problems of the effects of HMOs. These included anti-social behaviour, litter, noise, problems with parking. Also issues around periodic occupancy and the knock on effects on retail, schools and health services;
94 per cent of those commenting felt that the promotion of best practice couldn't deal sufficiently with the problems associated with high concentrations of HMOs;
84per cent of respondents commented that planning legislation should be amended. Around 98 per cent of these favoured a change to the Use Classes Order either by amending the threshold or introducing a definition of an HMO;
Towns and cities that have highlighted the issue have included Nottingham, Southampton, Loughborough, Leeds and Bristol. Coastal towns such as Blackpool also responded. Peterborough also identified issues with HMOs impacting on the local economy.
3. The change includes an amendment to the Town and Country Planning Act 'Use Class Order' to introduce a new class for HMOS. The changes will require landlords to obtain planning permission, where a material change of use has occurred, for an HMO of three or more occupants who are not members of the same family and who share basic amenities. The threshold is currently set at six people. There are an estimated 400,000 plus HMOs currently in England. The existing stock of HMOs will not be affected by the change in legislation as they will have an 'established use' at the date the legislation changes.
4. The submission of a planning application allows the local authority to fully consider the impact of a development i.e., whether there is sufficient car parking or there could be adverse effects on the local amenities. In order to manage HMO development, Local Planning Authorities will need appropriate policies in their local plan.
5. The 'Use Classes Order' is a piece of planning legislation which places developments into categories known as a 'Class'. The use Classes Order groups categories that have a similar impact together into 'classes'. Planning permission is then required for some types of movement between the Classes, for instance if a house wants to change into a hotel or a shop into a restaurant. Changes between certain types of development are then allowed, without the need for planning permission, as they have similar impacts. For example, a change of use between a hairdressers to a travel agency would not require planning permission.
6. Discretionary licensing schemes are aimed at increasing the quality of existing stock in the private rented sector in terms of both physical conditions and management standards. They are part of a range of tools available to local authorities to tackle problems such as poor management standards, property condition and anti-social behaviour their local private rented sector.
7. There are two forms of discretionary licensing schemes.
Under Part 2 of the Housing Act 2004, a local authority has the discretion to extend licensing in an area to those Houses in Multiple Occupation (HMOs) that do not meet the mandatory HMO licensing requirements;
Under Part 3 of the 2004 Act, a local authority also has the discretion to establish a selective licensing scheme to cover all privately rented property in an area, should that area be suffering from - or likely to become an area of - low housing demand and/or significant and persistent anti-social behaviour. The license requires certain standards and conditions of a rented property.
8. Local authorities currently have to seek approval from CLG to introduce such schemes. All private landlords with properties that they rent within an area designated as subject to an additional HMO or selective licensing designation will require a licence from the local authority for each of their rented properties. They will need to be identified by the local authority as 'fit and proper' persons in terms of their suitability to manage their properties. The local authority will be able to impose conditions and standards on licences and charge a suitable fee at their discretion.
9. To date 16 local authorities have also been granted approval to operate discretionary licensing schemes. Approval has been granted to Peterborough City Council and the London Boroughs of Hounslow, Hillingdon and Ealing to operate additional HMO licensing schemes in parts of their area.
10. The Department has also approved 17 selective licensing designations in 12 local authority areas. These are Salford City Council (2 designations), Middlesbrough Borough Council, Manchester City Council (3 designations), Gateshead Council (2 designations), Sedgefield Council, Burnley Borough Council, Bolton Council, Easington District Council, Blackburn with Darwen Council (2 designations), Hartlepool Borough Council, Leeds City Council and London Borough of Newham.
11. The General Consent consultation will last six weeks and seek views on the widest possible range of options for introducing such consent and the form that any future consent could take.  The consultation document sets out a range of options including;
12. Last year CLG consulted on a proposal to establish a national register of landlords as part of a wide-ranging package aimed an improving quality and professionalism in the private rented sector. Further proposals have been developed and further announcements on this and the work with Consumer Focus will be made shortly.