CASTLE BOULEVARD TOWNHOUSES SIGNPOSTING THE FUTURE FOR STUDENT HOMES?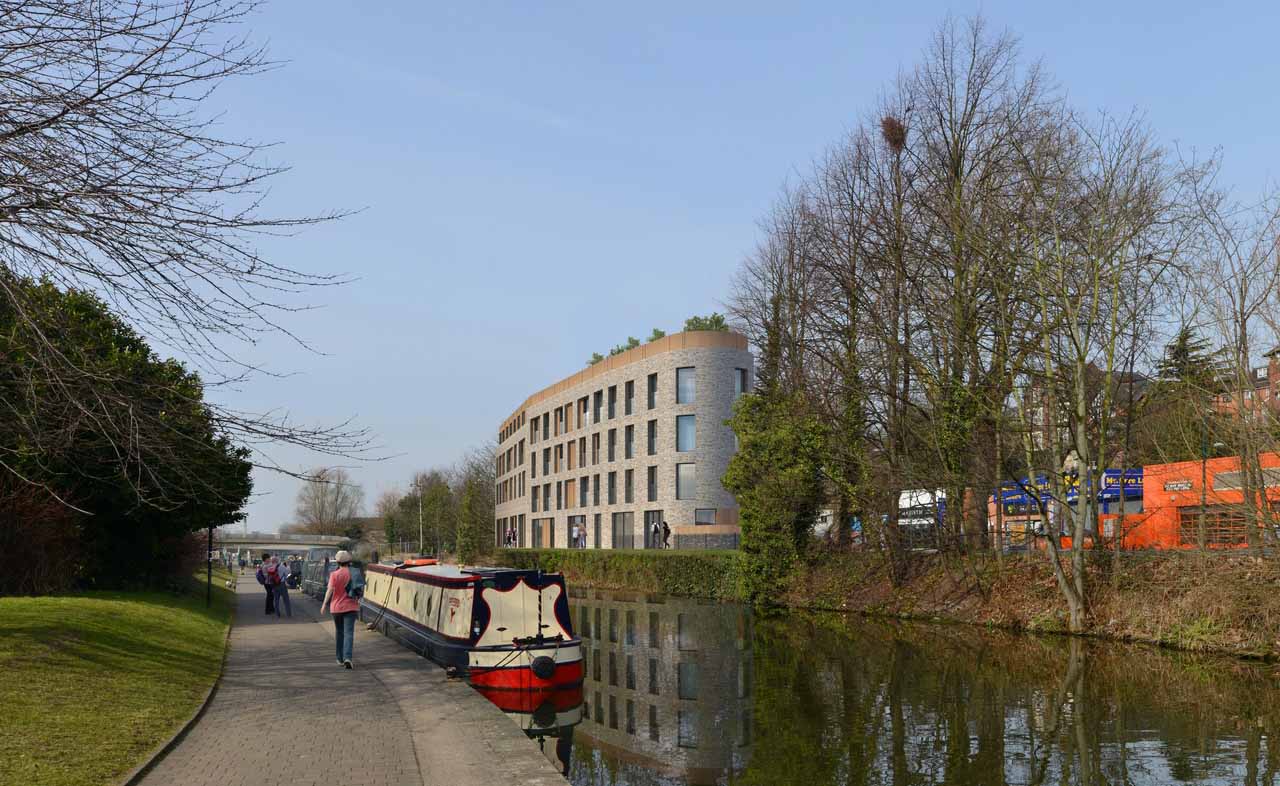 Earlier this year Church Lukas Architects submitted a planning application on behalf of Omni Developments to develop a triangular site, formerly used as a car park, alongside the canal on Castle Boulevard as seven four-storey HMO student 'town houses'. The application was approved by Nottingham City Council's Development Control Committee and, as the hoardings that have now gone up testify, work on what is potentially a trail-blazing development has begun.
In the Overview section of their Design and Access Statement, Church Lukas state:
'... Whilst the 'cluster flat' and 'studio' based schemes provide accommodation for predominantly first year students, most leave purpose built accommodation after one year and move into HMO houses. This scheme will set a new benchmark in the design, environmental performance and provision of social space lacking in the purpose built market.
This product ... [will] provide:
a genuine alternative to the existing HMO houses
a spatial configuration that encourages social cohesion and a management process that promotes social responsibility
a negative carbon structure
a flexible 'long life, loose fit' design that can be configured to residential [use] at a later stage if required. ...'
The design is based on a townhouse arrangement in which all of the seven townhouses will have shared social, kitchen and dining space at ground level, with three floors of bedrooms (twelve in each townhouse) above, a naturally lit central atrium. There will be bathrooms on each floor, getting away from the 'en-suite' model currently used in other purpose built student housing, and relating more closely to the 'family house'/HMO model. One of the townhouses has been designed to have '... an accessible room for wheelchair occupants with a full lifting platform to be provided at ground floor'.
A range of options exist for conversion of the scheme back to residential use, including the possibility of conversion into large individual family townhouses or a mix of two-bed and one-bed apartments. 
To see the full Design and Access Statement (5.4 MB) and other documentation, go to Nottingham City Council's Planning and Building Control section at:
www.nottinghamcity.gov.uk/planningandbuildingcontrol
and follow the links in 'Planning Applications' to Planning Application 13/00865/PFUL3.
The Nottingham Action Group's comments on the application which, whilst largely supportive of the project, include important reservations and caveats, can be downloaded here:
 Comments_on_Castle_Boulevard_Application.pdf
UPDATE 2013 to 2015 
Graystacks was formally opened in 2015. To follow its history from the concept through to its completion and opening, visit this page of our website and links in it: