NOTTINGHAM CITY COUNCIL CONSULTATION ON PRTOPOSALS FOR AN ADDITIONAL LICENSING SCHEME FOR HOUSES IN MULTIPLE OCCUPATION (HMOs)
25 February 2013 to 22 May 2013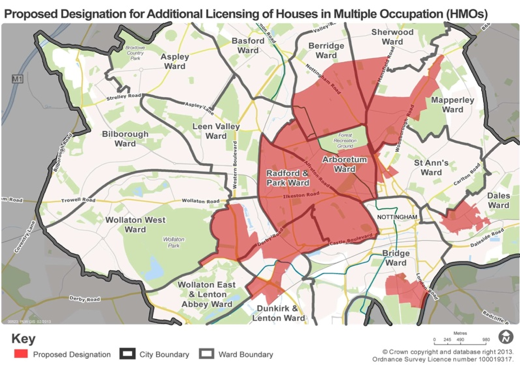 At the January 2013 open meeting of the NAG, it was confirmed that the Council's Executive Board had adopted the recommendations made in December 2012, and that, as the next stage, a public consultation would take place.
This consultation, which began on Monday 25 February, will run for twelve weeks until Monday, 20 May. Full consultation information and documentation are available on line at:
www.nottinghamcity.gov.uk/hmoconsultation.
However, we have extracted the main features of the Proposal Report for Consultation here:
PROPOSAL REPORT FOR CONSULTATION 
1.0 Introduction
The City of Nottingham has a growing private rented sector (PRS) that is now the most accessible and affordable housing option for many. The sector accounts for 23% of properties within the City (Census 2011). The Council acknowledges that there are some excellent landlords providing very good quality homes in the private rented sector; however, the Council is concerned about some very poor housing conditions and management within the sector; particular with regard to houses in multiple occupation (HMOs) which account for approximately 25% of the PRS in Nottingham.
The Council wants to ensure that all private rented properties within the City provide tenants with safe, quality and well-managed accommodation. To achieve this, the Council believes that this there is a need to use regulation alongside existing initiatives.
Since 2006 the Council has licensed three storey HMOs which have five or more tenants (this is called mandatory licensing). However, where the Council considers that a significant proportion of HMOs in an area are being managed sufficiently ineffectively as to give rise, or be likely to give rise, to one or more particular problems either for those occupying HMOs or for members of the public it may adopt a scheme requiring other types of HMO to also be licensed,
The Council is now consulting on a proposed additional licensing scheme. The Council is proposing to cover most types of Houses in Multiple Occupation (HMOs) under the Housing Act 2004. This includes shared houses/flats and some houses that have been converted into flats. There are some exemptions under the Housing Act 2004 such as housing associations and university managed accommodation, which do not require licensing. The Council is also proposing that HMOs that comply with codes of practice approved under section 233 of the Housing Act 2004 will not be required to be licensed. In Nottingham this covers some larger purpose built and converted student accommodation which comply with the code of practice administered by the Accreditation Network UK (ANUK).
For the Council to use these powers and make a designation it has to fulfill the requirements of sections 56 – 58 Housing Act 2004 and the document 'Approval Steps for Additional and Selective Licensing Designations in England' published by the Communities and Local Government department (CLG) in 2010.
The consultation concerning this proposed designation will run from 25th February to 20th May 2013.
 2.0 Additional Licensing Proposal
Additional licensing is a regulatory tool provided by the Housing Act 2004. Section 56 of the Act allows local housing authorities to designate areas, or the whole area, within their district, as subject to additional licensing in respect of some or all of the HMOs in its area that are not already subject to mandatory licensing.
Nottingham City Council is proposing to implement an additional licensing scheme in the designated area shown [on the map at the top of this article].
Under the proposed designation, most privately rented HMOs not already covered under the mandatory scheme, will require a licence; an application will need to be made to the Council (see exemptions in 1.0 Introduction, above).
Landlords who own more than one property within the designated area will need to apply for a licence for each of the HMOs they rent out. The licence is valid for up to five years and will contain a series of conditions that the licence holder will be required to comply with. These conditions will include items relating to the: management of the property, health & safety issues and anti-social behaviour. More information on conditions is contained in paragraph 2.2 below.


2.1 Licence Fee and Other Charges
Licence Fee: The for mandatory licensing from 25th March 2013 will be £980 for new applications and £930 for further applications made within 6 months of the first. The licence application fee for HMOs under the additional licensing scheme (should it be adopted) is likely to be similar for those covered by mandatory licensing. There may be a variance to the fee of plus or minus 10%, subject to further consideration of the costs. The Council sets the fee for HMO licence applications taking into account all of their costs in administering and carrying out the licensing functions. The Council uses the nationally recognised Local Government Association (LGA) model in determining this fee. If a decision is made to adopt the proposed scheme the fee will be determined at that time in the light of any changes to the proposals that may have arisen out of consultation.
Other Charges: In addition to the proposed fee structure the Council already charges £150 finders fee where landlords fail to apply for a licence and the property required to be licensed has been identified by the Council. This situation may also lead to enforcement action by the Council. Other costs include £30 fee per letter written when the Council has to remind landlords for relevant information.
2.2 Licence Conditions
The Housing Act 2004 requires that every licence has certain mandatory conditions included. The Council also has the power to include other discretionary conditions to apply as appropriate. Indicative conditions that the Council will consider applying under the proposed additional licensing scheme can be found in Appendix 4 of this document. These conditions are however, subject to review.
Further conditions may also be required, which would be specific to the individual HMO concerned, for example to make the property suitable for occupation or to restrict occupancy or household numbers.
3.0 Why Has the Council Proposed An Additional Licensing Designation?
The Council has operated a range of schemes and initiatives to improve property conditions and management of HMO properties for a number of years including:
The Good Landlord Scheme;
HMO registration (a pre-cursor to HMO licensing);
Student accreditation scheme (which developed into the accreditation service provided by UNIPOL (the UNIPOL/DASH Code, supported and proposed by the Council). The  DASH (Decent and Safe Homes) Accreditation scheme;
Established teams to deal with increasing issues of anti-social behaviour and environmental crime;
Developed 'Community Protection' a joint service between the Council and Nottinghamshire Police. Working in neighbourhoods across the city, dealing pro-actively and reactively with ASB, and engaging with communities on a local level;
Creation of HMO Action zones in three areas with high concentrations of HMOs (Sneinton, Lenton and the Arboretum) dealing with mandatory HMO licensing, improving the external appearance and housing conditions;
Targeted work in Sneinton utilising Migrant Impact Fund (MIF) monies to improve housing conditions and access to relevant information, services and facilities for migrant workers in the area;
Provision of information and advice to students at Fresher's Fair and a 'Student Survival Guide';
Engaging and working with landlords and managing agents through an annual landlord's conference and regular Landlord Liaison Panel (LLP);
Bond Scheme to encourage landlords to work with the Council's Housing Aid team to provide much needed accommodation.
Appointment of Student Strategy Manager in 2005. This has led to more co-ordinated work across partner organisations in the city including:

Universities – joint working with Universities and Students Unions to target student areas to improve the look and feel of an area and educate students on issues such as waste management and community relations;
Waste management – targeted additional collections at peak times of the year and neighbourhood action days;
Nottingham City Council neighbourhood management teams;
On going work and engagement with residents groups including: Nottingham Action Group on HMOs (NAG), Dunkirk & Old Lenton Community Association (DOLCA);
East Midlands Property Owners (EMPO).
Although the Council has undertaken a wide range of work with partner organisations there are still problems with some landlords and properties. We continue to receive complaints about HMOs and the way they are managed particularly in the proposed designated area. These problems include:
Bins on streets;
Noise complaints;
Housing disrepair and overcrowding;
Refuse accumulations; and
Land/buildings detrimental to the amenity;
Anti-social behaviour;
Landlord/tenant/neighbour disputes.
The Council believes that by using additional licensing powers within this area alongside existing initiatives and legislative provisions we can address these problems and help to reduce the number of complaints leading to a better experience for tenants and the wider community. Mandatory licensing, in operation since 2006, has assisted the Council in achieving improvements to housing management in larger HMOs. For example, over 2000 gas and electrical safety checks have been undertaken to date (some checks have only just been done prior to applying for a licence which suggests licensing can be a catalyst to make some landlords carry out interventions which may not have happened otherwise). Over 200 category 2 and 31 category 1 hazards have been identified and corrected. In addition, the Council has prosecuted 20 landlords/managing agents where they have failed to apply for a mandatory HMO licence.
Some landlords that have been prosecuted or failed to comply with their licensing obligations have left this area of the housing market.
Data analysis work has helped shape the decision regarding the area to be covered by the proposed designation.
Based on the advice within the CLG guidance and from a Local Government Regulation (LACORS) representative, core data from the Environmental Health Flare database was gathered using the following data sources and methodology:
Output areas (OA);
All non-mandatory licensed HMOs with one or more complaints 2008-2012;
Percentage of non-mandatory licensed HMOs with one or more complaints against them;
Types of HMOs with one or more complaints;
Total HMOs in OA;
Total properties in OA; and 
Mandatory licensed HMOs.
The evidence used to decide on the final designation was based on the mapping of complaints received by Environmental Health where the Flare database has linked them to a non-mandatory licensed HMO. This includes complaints on the issues indicated above. Police data was also utilised from two police beats in Sneinton (Bendigo and Sneinton Hermitage), which cover a part of the Dales ward. Records of police incidents concerning anti-social behaviour from HMOs were used; this includes landlord/tenant disputes; neighbour disputes; and abusive and rowdy behaviour.
This evidence was gathered as there was limited recorded data regarding HMO issues in Sneinton stored on the Flare database. There were several reasons for this including a lack of public awareness of the Council's complaints procedure and the reluctance of many emerging communities to report problems. Police data was used to identify issues in HMOs and incorporated into the mapped evidence.
In addition:
Where a HMO had received more than one complaint we removed these duplicate complaints therefore strengthening our data set, so we were not double counting addresses;
The proposed designation only shows the output areas (OA) with more than ten HMOs within them to ensure we can illustrate the impact of licensing over a period of time;
The proposed designation shows up areas that are not traditional student areas – highlighting that HMO problems are not solely student related;
Properties owned by registered providers (formerly known as registered social landlords or housing associations) and HMOs already covered by mandatory licensing have been removed from the data;
Complaints that are not linked to a HMO on our Flare database have also been removed;
We have only included complaints data which we believe fits within the Housing Act and CLG guidance.
To comply with the Housing Act 2004 and the CLG guidance, (both of which require that a significant proportion of the HMOs of the proposed description in the area are being managed sufficiently ineffectively), the proposed designated area is based around output areas containing at least 10 or more non-mandatory licensable HMOs where 20% or more of those HMOs have received at least one relevant complaint between 1st January 2008 and 1st October 2012.
However, defining the designation based solely on historical complaints data could potentially omit adjoining areas which contain a large proportion of HMOs which are likely to give rise to similar problems from the scheme. This could result in a very anomalous designation from a public perception. The proposed designation for consultation is therefore further defined to include such areas and by reference to natural or physical boundaries, (such as arterial roads,) to arrive at a coherent, precisely definable basis for the designation.
4.0 Potential Benefits of an Additional Licensing Scheme
In the Council's view, the following benefits are expected should the proposed designation proceed:
A reduction in the number of complaints and problems of the types identified in Section 3 above;
Protection of the health, safety and welfare of tenants through  improved management of the HMO;
Reduced negative impacts from HMOs that will benefit the whole community;
Improved management and, in the longer term, improved conditions of privately rented accommodation will provide quality and choice for residents;
Licensing will require absentee or unprofessional landlords to employ a professional property management approach to actively manage their properties and ensure suitable arrangements are in place to deal with any problems that arise;
Good private landlords would also benefit from not having to compete with poor landlords as the Council is looking to promote licensed and accredited landlords and the quality accommodation they offer;
As with mandatory licensing, additional licensing will bring a number of properties to the Council's attention that would otherwise have gone undetected.

 5.0 How Does Additional Licensing Fit Into Nottingham's Plans & Wider Housing Strategies Including Homelessness, Anti-Social Behaviour, Regeneration & Empty Properties?
Driving up Quality Standards: One of the key strategic housing objectives of the City Council is to continue to improve the quality of PRS properties. The Housing Nottingham Plan (HNP): The three year plan of the Nottingham Housing Strategic Partnership 2013-2015 recognises this and mentions the ambition to create 'A higher quality standard of homes in the private rented sector'.
The Council acknowledges that many properties provide decent accommodation and are well managed by landlords, but with regard to those that are not the Council believe that additional licensing could be a vital tool in driving up standards and therefore 'reducing the negative environmental consequences of poor landlords and getting landlords and PRS residents to play a more active part in the improvement of neighbourhoods.'
Homelessness: Nottingham City has adapted its allocations policy to make use of the powers introduced by the Localism Act 2011 to make offers of private rented accommodation as a way of discharging its homelessness duties. The private rented sector will expand as a source of accommodation through which homelessness duties will be fulfilled; this and its role as a quality housing solution brings a need to work with the sector to improve standards.
The Council is committed to ensuring safe and affordable privately rented accommodation and believes that additional licensing will assist in achieving this goal. The Council does not anticipate the proposal will impact negatively on homelessness in the City. The Council's Housing Aid team already provide incentives such as the Bond Scheme to encourage landlords to take on tenants who struggle to get the finances together for a deposit.
Regeneration: Interventions through additional licensing could assist in regenerating communities and neighbourhoods through improved management of properties by licence holders.
Anti-Social Behaviour: The Council works to reduce anti-social behaviour (ASB) across the City. Additional licensing is a tool that can be utilised to ensure landlords manage their properties and tenants in an appropriate manner. Where required colleagues in Community Protection (joint service between the Council and Nottinghamshire Police) would be able to identify and provide evidence of licence holders that are failing to comply with the HMO licence condition.
CONSULTATION QUESTIONNAIRE
Have Your Say on the Proposed Scheme for Additional Licensing of Houses in Multiple Occupation (HMOs)
The consultation questionnaire, which consists of four questions, can be completed on-line at:
www.nottinghamcity.gov.uk/hmoconsultation
Alternatively, you can request a printed copy of the questionnaire by:
E-Mail: engage@nottinghamcity.gov.uk
Tel: 0115 876-3534
The completed questionnaire can be returned by e-mail to the above address, or can be posted to the council using the Freepost (no stamp needed) address below:
RSKR-JYGH-YYAK
Nottingham City Council,
HMO Consultation
Loxley House
Station Street
Nottingham NG2 3NG
WHAT HAPPENS NEXT?
At the end of the consultation on the proposed additional licensing designation the Council has three options:
to do nothing and leave the situation as it is, not requiring any additional licensing of other HMO properties; or
declare the proposed designated area as an area for additional licensing; or
amend the proposed designation area after consideration of consultation responses
After the consultation has closed the Council will consider all the information that has been gathered and a report will be prepared for the Executive Board of the Council recommending one of the three options (as given above).