NUH (Nottingham University Hospitals Trust) NEWS: 
In the November/December 2013 issue of the NUH News carried an article in which the Trust's Chief Executive, Peter Homa, described the efforts being made to stop smoking outside the QMC and the City Hospital, and the reasons why.
The same issue reported on new initiatives to help make both hospital sites cleaner and tidier.
LET'S KICK THE HABIT ... TOGETHER
As the leader of a hospital which too often picks up the pieces when smokers can't give up, I feel nothing but support for Stoptober. It's a great idea and it does work. Even if just one extra person gives up smoking, it is a step in the right direction.
But I am only too conscious that six years after smoking was banned at workplaces, every day I see smokers at QMC and City Hospitals, often puffing away directly under our 'No Smoking' signs.
The most obvious gathering of smokers at QMC is at the front entrance on Derby Road. It's highly visible, but worse than that, it's directly outside the maternity unit and children's hospital, where some of our smallest and most fragile patients are being cared for. We have similar problems at City Hospital's Maternity Unit, with smokers regularly gathering.
Not only does it bother me, it matters to our patients, their relatives and staff. I know from complaint letters and social media just how much it affects people and their opinion of our hospitals. For some, hospital it is a stressful and upsetting time, and in these exceptional circumstances, we understand and make some allowances. But for most people, this isn't the case and we often see crowds of people gathering to smoke directly outside our buildings.
It just doesn't sit comfortably with me. It creates a poor impression of what NUH stands for. Non-smokers are subject to secondary smoke and it's a poor example to children. We have to divert resources from clinical services to stopping smoking and clearing away butt-ends.
We have run programmes to help and support people who wish to quit, disciplined staff who smoke on-site, put up signs to remind everyone we are a smoke-free site and taken away benches to stop people from sitting outside the entrance to smoke. We have held a series of 'kick the butt' days, working with our City Council partners and our local residents - our closest neighbours - resulting in fines for those who drop their butts and litter on our premises. Last week, a woman was fined £300 for dropping her cigarette end at QMC.
There are fewer smokers. But there are still some, so we are rethinking our approach. I've come to the conclusion that just as a smoker has to want to stop to succeed, an organisation has to want to stop smokers on its premises. To be successful, this requires a collective response – from our patients, their relatives, our staff, our partners, our local community and of course the Nottingham Post. We really want everyone to get behind us on this.
It you're a smoker, please think twice before lighting up on site. If you're not, if you feel confident it won't put you in danger, challenge smokers you see outside our hospitals, especially outside the QMC main entrance, and the maternity unit at City.
Stoptober works because it's a collective effort. Let's put that collective will to work at Nottingham University Hospitals to support this cause, which is in all of our interests.
LITTER HIT SQUAD SWEEPS NUH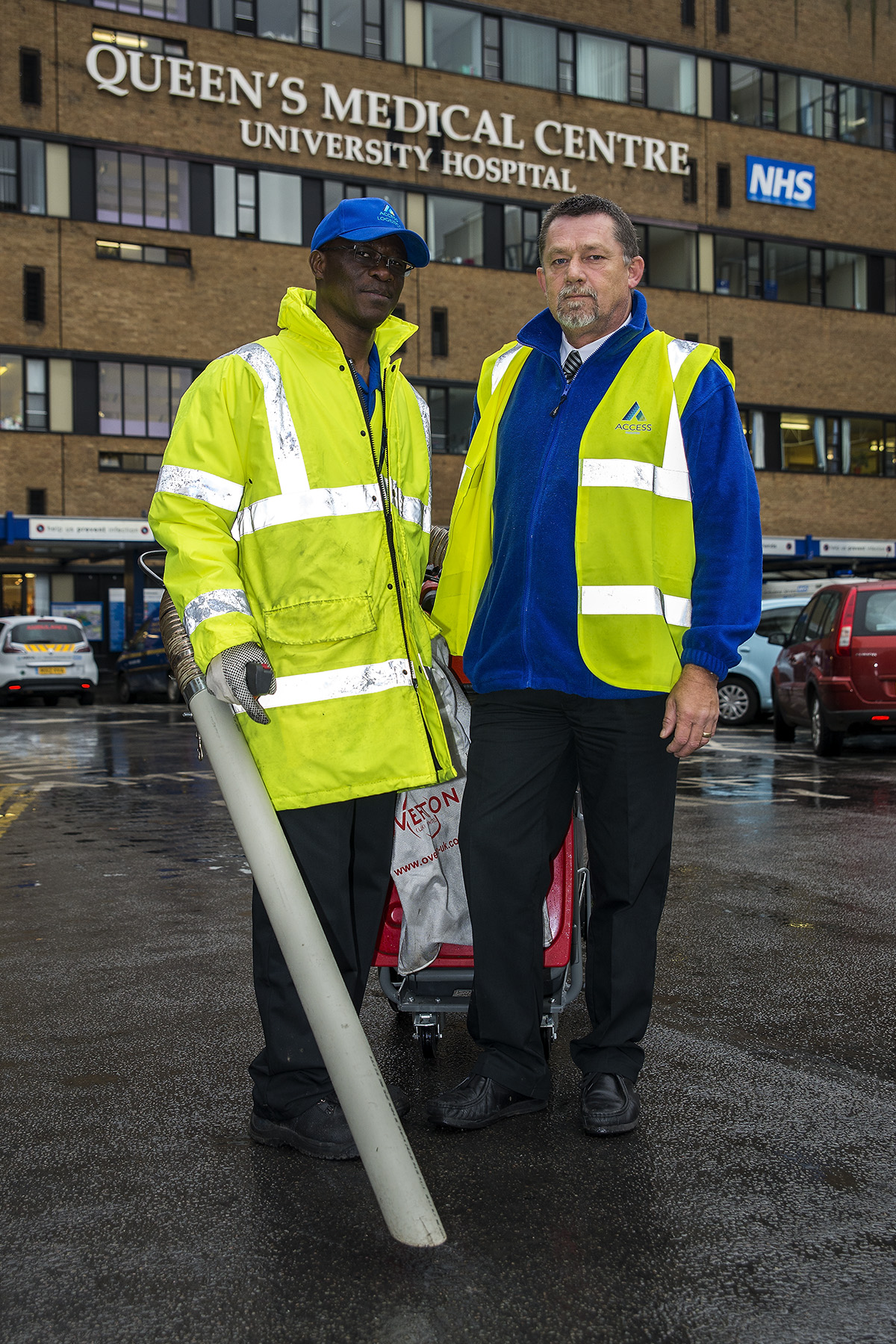 A new clean up hit squad is sweeping across both hospital sites in a drive to make it cleaner and tidier.
They will patrol QMC and City sites with street cleaning barrows to crack down on smoking and littering, keeping corridors and pathways free of clutter, unused beds and trolleys, and removing cardboard and other waste.
Keeping in touch with walkie talkies, they will also hand out cards to smokers with advice on stopping. Smoking is banned across both hospital sites.
Their first assignment after the being set up by NUH's Estates and Facilities department was to bring a children's play area back to life, less than a day after being alerted to the state it was in.
The six member quick reaction team was called in to clear years of litter and leaves from the Trent Cardiac Children's Play Area.
NUH's head of logistics, Clive Young, said: "When we took the call about the play area, we knew it was a chance to show exactly what the new team is capable of. They've turned an unappealing derelict are into something that's attractive and usable again."
"We know that keeping the hospital clean and tidy is one of the biggest concerns of patients, as well as staff, and by co-ordinating our efforts we can react fast and flexibly so that waste doesn't have time to build up."