HOMES & PLACES: A HISTORY OF NOTTINGHAM'S COUNCIL HOUSES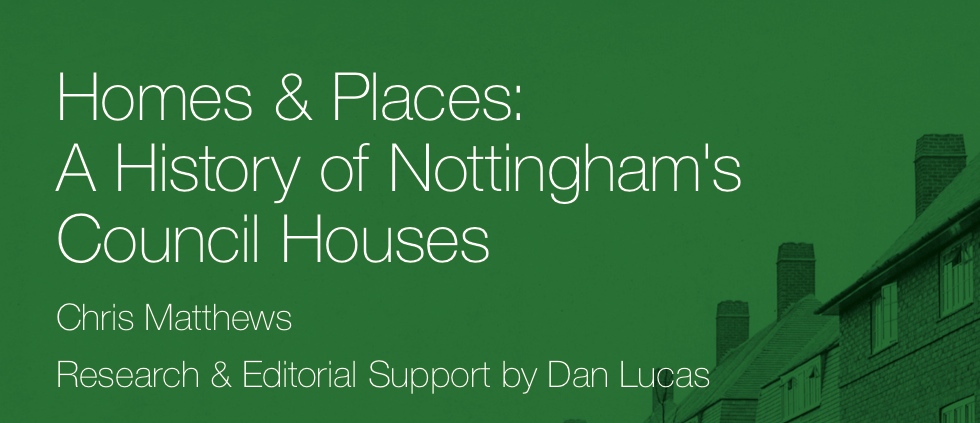 This is a book has been published recently by Nottingham City Homes ...
Council housing in Nottingham is an essential part of the city's history and identity. The slums of the nineteenth century laid the foundations for the surge of construction activity in the twentieth. Between the wars, Nottingham was recognised as one of the largest and fastest builders of council housing in the country, with huge garden city estates pushing at the city boundaries.
During the 1960s and 1970s attention turned to the inner city, and by 1981 around half of Nottingham's population lived in council tenancies.
The Right to Buy discount of the 1980s heralded a new era of decreasing stock, massive sales and modest rebuilding, then the birth of Nottingham City Homes in 2005 opened a new chapter in the story of Nottingham's council housing.
Since 2010 Nottingham City Homes and Nottingham City Council have been building council housing again with renewed vigour and confidence. In Nottingham, council housing is popular; it is widely recognised as something that has improved the lives of countless people. ... As we search for solutions to our current housing crisis, council housing offers hope for the future. ...
This illustrated book tells the story of how a great many of Nottingham's neighbourhoods were built (or in some cases rebuilt).
It is also the story of the people who have lived in all those homes over the years and how council housing transformed Nottingham for the better.
The book retails for £9.99 and is available from
Five Leaves Bookshop
14a Long Row
Nottingham NG1 2DH
Tel: 0115 837 3097
www.fiveleavesbookshop.co.uk
bookshop@fiveleaves.co.uk
Copies are also available to borrow from any public library in Nottingham.
For further details visit: