CONSULTATION ON RENEWAL OF CONTROLS ON LETTING BOARDS
 
A Regulation 7 Direction of the Town & Country Planning (Control of Advertisements) Regulations 2007 has been in operation in selected areas of the city for the past five years.
This Direction allows for the statutory control of letting boards and it has had a remarkable success in reducing the number of and visual impact of letting boards in these areas, which can be off putting to potential family buyers and renters and act as an advertisement to would-be burglars
Information about the the Regulation 7 Direction and the Design Guidance governing the use of letting boards can be accessed by following this link:
http://www.nottinghamcity.gov.uk/planning-and-building-control/planning-applications/do-i-need-planning-permission/controls-on-to-let-ad-boards/
The Direction expires in October 2017, and Nottingham City Council aims to submit an application for renewal for a further five years to the Secretary of State in July 2017. The application will be on the basis of the existing selected area boundaries.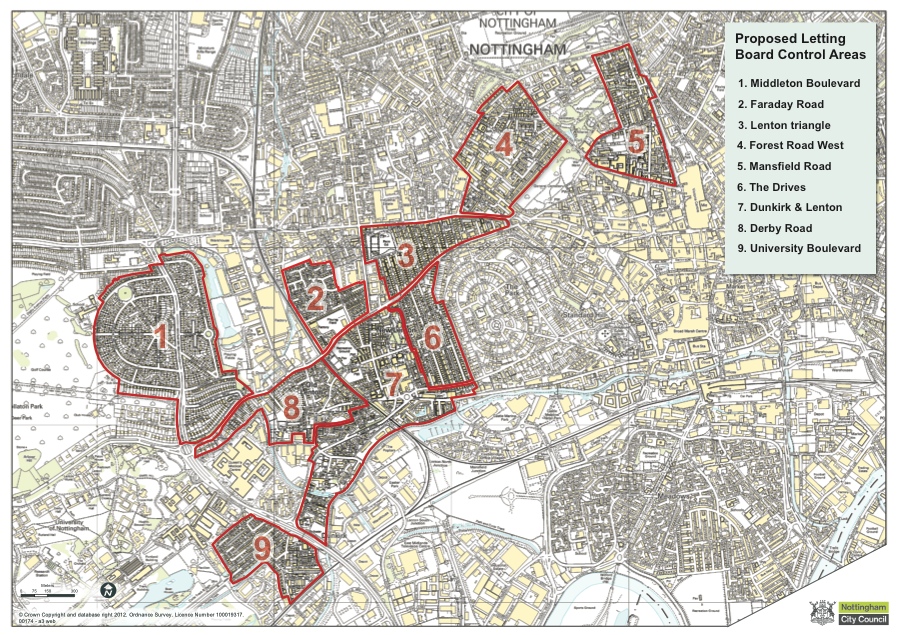 Before applying for renewal, the City Council is asking interested parties to submit their views in relation to: 
Your opinion on the success of the Regulation 7 Direction in meeting the wider aims of improving the visual amenity of the area, improve sense of place and/or reduce risk of burglary in the selected areas
Your view on the renewal of the Regulation 7 Direction for a further period of five years
Your view on the renewal of the Regulation 7 Direction for a longer period or in perpetuity
Any further comments.
Statements can be sent via e-mail to:
  development.management@nottinghamcity.gov.uk.
or to:
Development Management,
Loxley House,
StationStreet,
Nottingham NG2 3NG
Views need to be submitted by Monday 20 March 2017
If you have any queries, please contact Development Management on the e-mail above, or call Development Management on Tel: 0115 876-4447
Editor's Note
The Nottingham Action Group on HMOs spent many years prior to the start of the present controls on letting boards working with residents, students' unions, councillors and council officers, Unipol and the universities in order to gather the necessary evidence to present to the Secretary of State. The story of that campaign can be followed through a succession of issues of the NAG magazine, all of which can be downloaded from this website (NAG Magazine (TransNAG)
That the campaign was a success is down to the hard work and persistence of many individuals. A return to neighbourhoods blighted by a forest of letting boards would be to let them down as well as their neighbourhoods and, by fostering long-lasting negative impressions of them, impact on their resilience, capacity to maintain, let alone restore, balance and sustainability, and be places where people want to live, and work, and study, and put down roots.
See also: Council Prosecutes Agent for Contravening Letting Board Controls for news about Nottignham City Council's successful prosecution of a agent for displayign an unauthorised letting board in Lenton.